August 12- 14, 2022
Chattanooga, TN
Party Gras is BACK and in Tennessee
Returning for our 9th Edition of PartyGras, we have now made it a Weekend Event. This will be a weekend of good music, adult drinks, mingling, and fun for everyone attending. The Southern Belle features three (3) party decks with multiple DJ's. Live entertainment will feature spoken word artists, comedians, and performances by R&B/Hip Hop artist! FREE margaritas will be on deck at our welcome reception! This event WILL SELL OUT quickly, so purchase your tickets today. For questions and tickets call: (888) 946-9655 or purchase your tickets online now.
Event Itinerary
Friday Events
Partygras Kickoff

Time TBD
Saturday Events
Cocktails and Colors


Sip and Paint with Bottomless Mimosas

10:30AM - 1PM
Comedy/Poetry/Live Performances


featuring Big Kenney & Mario Tory for the comedy show, Georgia Me & Friends, and Bonita Jalane + Will C as the Live entertainers, hosted by Akshun of FAME Live

2PM - 5PM
Meet and Greet

with Bottomless Margaritas

6PM - 8PM
Cruise Boarding
10:00PM
Cruise Party time

sounds by DJ Dre Smoove

10:30PM - 1:00AM
*All times are based on Eastern Time Zone.
We are also providing hotel accommodations via the Doubletree by Hilton Downtown Chattanooga.
Cruise
---
Price
Diamond

Package

Crowd Control by: DJ Dre Smoove
Poets: Georgia Me and Friends 2p-5p
Comedians: Big Kenney and Friends
Live Performances by:T.B.A. Powered by: FAME Live Magazine
Meet and Greet with bottomless margaritas
Cocktails and Colors Experience with bottomless mimosas
Party Gras: Bottles and Beads Kick Off Party
9th annual Party Gras: Bottles and Beads Cruise 10:30p -1:30a

Cruise/Live Performances/Cocktails and Colors/Transportation $275/per person
Cruise/Live Performances/Cocktails and Colors $150/per person
Cruise Only $60/per person
Cocktails and Colors $45/per person
Live Performances Only $60/per person
Frequently Asked Questions
What is the official host property for the Party Gras?
Where is the cruise being hosted?
The cruise is being hosted on the Southern Belle riverboat. It's located at 201 Riverfront Pkwy, Chattanooga, TN 37402
Where will the bus depart from?
We will depart from Birmingham, Alabama at 9 AM August 12th and depart from Chattanooga at 9AM on August 14th.
Will refreshments be served on the bus?
Yes, margaritas will be on DECK!
After I purchase tickets online how do I receive my tickets?
Your tickets are sent directly to the email address provided during the purchasing process.
What time is boarding for the cruise and when does the cruise start?
Boarding starts at 10:30PM. The boat will leave at 10:45PM
*All times are based on Eastern Time Zone.
What time is the comedy/poetry and live performances show?
The live shows will be from 2PM - 5PM
*All times are based on Eastern Time Zone.
What is the address for boarding the boat?
201 Riverfront Pkwy, Chattanooga, TN 37402
What time is will Colors and Cocktails start? Also, what kind of event is this?
Colors and Cocktails will be from 10:30AM - 1PM. This event will allow participants to paint and sip bottomless mimosas. The format follows Sip and Paint titled events.
*All times are based on Eastern Time Zone.
What form of entertainment will be provided during the cruise?
The cruise will feature DJ's on 2 decks of the Southern Belle with the top deck being left for your river viewing pleasure.
Are all events one combined event?
No, you can purchase tickets only for the cruise, colors and cocktails or variety show. The cruise will begin boarding at 10:30pm while the variety show will start at 2PM. Colors and Cocktails will start at 10: 30 am.
*All times are based on Eastern Time Zone.
Do I have to ride the charter bus to attend this event?
No, you can purchase tickets only for the each event or the all inclusive ticket for all events.
Buy Now
---
Hotel Accommodations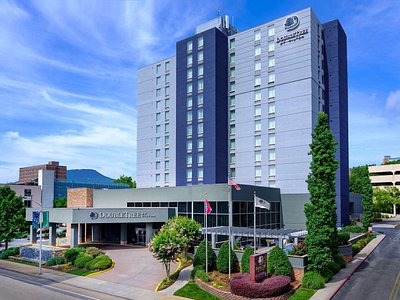 Doubletree Chattanooga Downtown
Reserve Your Room
Important Package Information | Our refund policies are located on the main FAQs page. Hotel images are used for descriptive purposes only. Hotel room types are not guaranteed and may vary due to availability. Individual event passes, if applicable to the package, are provided per person. Package price includes only one room per group. Package prices do not include: registration, taxes, service or late fees. For event specific questions, please view the FAQs tab or use the form on the Contact Us page for any questions you may have.
Accepted Payments |
Travel Insurance | Travel insurance is highly recommended. YOLLO Group Services is an affiliate of Travel Guard, America's leading provider of travel insurance plans and assistance programs. Please ask a YOLLO representative for more information about travel insurance or click here to purchase.
Disclaimer
| The term Party Gras and Bottles and Beads, as well as all associated graphics and/or logos, are registered trademarks of their respective owners and are used herein for factual description purposes only. We are in no way associated with or authorized by Southern Belle Riverboat and neither this production nor its affiliates have licensed or endorsed us to sell goods and/or services in conjunction with any Southern Belle Riverboat productions. The use of any logos, words, trademarks, or photos have been used for Descriptive Purposes only and not to show endorsement or permission to use, to promote the sale of any tickets. We are not affiliated with, nor do we have any licenses or strategic alliances with, nor are we authorized by any box office, promoter, venue, theatre, stadium, hotel, sporting team or sporting association. All and any copyrights, trademarks, trade names used within this web site are for descriptive purposes only. We are not acting on the authority of or by the permission of any of the above mentioned entities. We are able to provide access to tickets for events through our contacts and various sources.